"Bandai Namco" je na svom službenom Twitter profilu izbacio saopćenje koje će dignuti živac vlasnicima Nintendo Switch konzola.
"Dark Souls Remastered" će izaći tek negdje na ljeto ove godine. Dok će ostale platforme dobiti ovu igricu kako je prvotno najavljeno, 25. maja.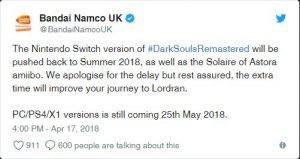 Ako išta, sad kreatori nemaju izgovor da slučajno naprave loš port igre nego to mora biti lijepo ispoliran i igriv naslov za Switch. Razlozi odgodbe mogu biti raznorazni, iako se najčešće spominju testiranja i optimiziranje online komponenti odnosno komunikacije. Kad će tačno igra izaći za Switch, još se ne zna.
"Bandai Namco" će tek naknadno objaviti koji će to datum biti. Također, "Solaire of Astora amiibo" se odgađa.