Od prošlog meseca Twitch Prime pretplatnici su počeli da uživaju u još jednoj odličnoj pogodnosti – besplatnim igrama.
U martu su predvodnici ponude bili akciona pucačina Superhot i fantastična avantura Oxenfree, a za april se mogu preuzeti: Steamworld Dig 2, Kingsway, Tales from the Borderlands, Dubwars i Tokyo 42.
Steamworld Dig 2 je odlični 2D platformer koji je od nas dobio 9.5 ocjenu, a Tales from the Borderlands predstavlja epizodno izdanje urnebesnih avatura smještenih u dobro poznatom univerzumu. Kingsway je zanimljiva RPG avanturica, a Dubwars je napeta, i blještava, arkadna pucačina.
Da ne zaboravimo i Tokyo 42, izometričnu pucačinu smještenu u futurističkom Japanu.
Ponuda besplatnih igara važi sve do 30. aprila, nakon čega dolaze novi naslovi.
Ako ste kojim slučajem Xbox Live Gold pretplatnik pogledajte koje besplatne igre dobijate za april, a objavljene su i besplatne igre za Playstation Plus.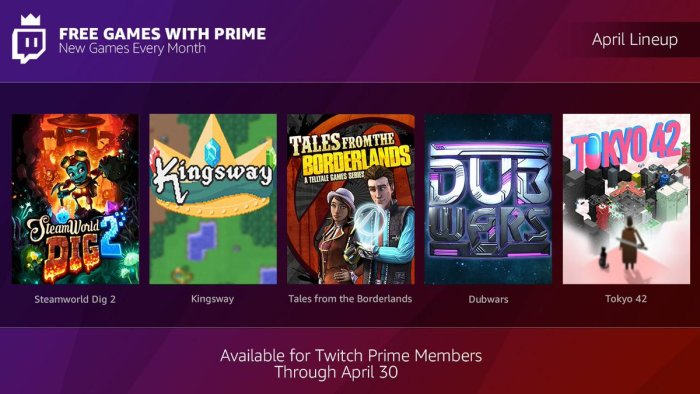 (Play.co.rs)